Professionals Committed to Your Wellbeing
Fresh Dental's talented team works together to provide our patients with a highly professional service across a wide range of treatments.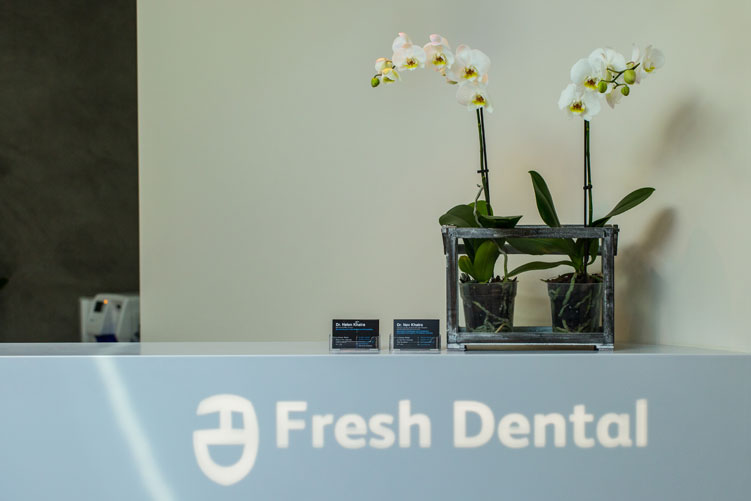 Our entire team is experienced and extremely well trained. You can expect friendly, personal service at Fresh Dental and we like to stress that nervous patients are welcome. We will help you relax!
Meet the Team.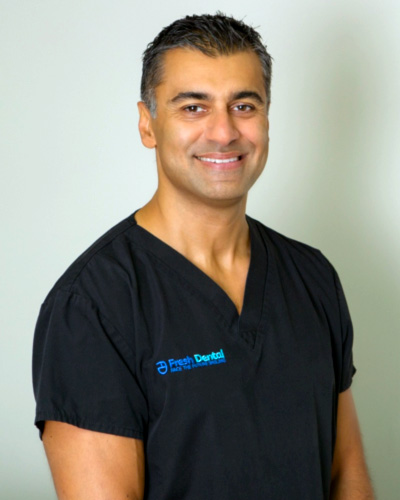 Dr. Nav Khaira | GDC NO. 68704
---
FDS RCSEd, LLM(U.Card), MSc. (Hons), MClinDent(U.Lond), BDS(U.Lond), MRDRCS(Eng.), MFDSRCPS (Glasg.), MSurgDent RCS (Eng.) LDSRCS (Eng.)
Registered Specialist in Periodontics & Oral Surgery (General Dental Council, U.K.)
Former Specialist Clinical Teacher at Guy's, King's & St. Thomas' School of Medicine & Dentistry, London, U.K.
Former Consultant Oral Surgeon
Dental Implantologist and Cosmetic Dentist (Diploma in Implant Dentistry)
Dr. Nav Khaira has received Specialist Training from the world renowned Guys, King's and St. Thomas' Dental Institute and was one of the first in the U.K. to complete his Certificate of Specialist Training. He is the only dentist in the Channel Islands to have done so. Additionally, he has earned his Bachelor's Degree in Dentistry and was a Specialist Lecturer at Guys Hospital, London. Dr. Khaira was invited to become a Fellow of the Royal College of Surgeons of Edinburgh. He sits on the Panel of the Dental Complaints Service, on the General Dental Council as a Panel Member.
He is an Expert Witness in Medico-legal cases and has an LLM in Medical Law from Cardiff Law School.
Recognised provider for all insurance companies to provide General and Specialist Services for the policy holder – AXA PPP; BUPA; Allianz; SimplyHealth; Aviva; Denplan; WPA.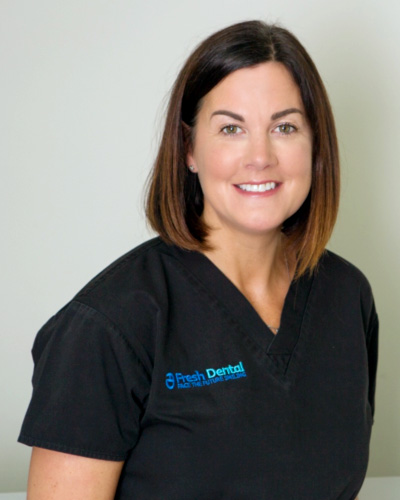 Dr. Helen Khaira | GCD NO. 68437
---
BDS (U.Lond.), MSc.(U.Lond.)
Special interest in Periodontics & Oral Surgery
Retired Clinical Lecturer/Teacher, Guys, King's & St. Thomas' School of Medicine & Dentistry, London, U.K
Helen qualified in 1992 from Kings' College Dental School. She obtained her BDS and has a Masters Degree (MSc) in Periodontics (Gum Disease) from Guys institute in London. Helen won the Sir Wilfred Fish Research Prize from the British Society of Periodontology in 2000. She has worked in various Oral and Maxillofacial Surgery units in London Hospitals and has taught undergraduates at Kings Dental Hospital.
Helen's gentle and relaxed approach eases the most anxious patients and she has a keen interest in preventative, restorative and aesthetic dentistry. Helen enjoys caring for her patients and gaining their trust by providing good quality dental treatment in a relaxed, gentle and friendly environment. She regularly undertakes Continuing Professional Development both nationally and internationally that is provided by world renowned clinicians.
In her spare time she enjoys the gym, cycling, fitness and travelling when time allows.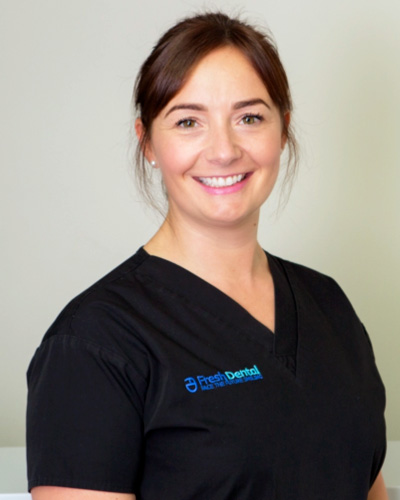 Ms. Andrea Le Clercq | GDC NO. 6488
---
DipDH, Dental Hygienist
Andrea has been a vital member of Fresh Dental since May 2011, working as one of our Hygienists. Previously, she worked in both Jersey and Norfolk after qualifying from Bristol Dental Hospital in 2004.
Andrea is warm, friendly and the welfare of her patients is always her first priority. In her spare time, she enjoys keeping fit and spending time with loved ones and walking with her dog Patch.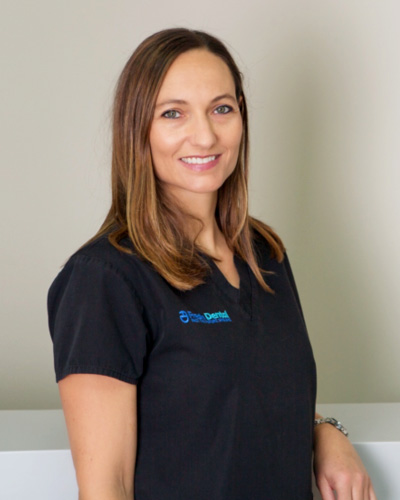 Jeanne Cloete | GDC NO. 5630
---
DipDH, Dental Hygienist
Jeanne joined the team in April 2017 as one of our Hygienists. Jeanne qualified in 1992 from the University of Pretoria, South Africa. She worked in an Orthodontic Practice until she relocated to the U.K in 1996, she qualified from St. Bartholomew's and the London School of Medicine and Dentistry in 2000 and has since worked in the NHS and private practices in London and Guernsey.
Jeanne stays up to date by regularly attending courses arranged by the Guernsey Hygienist and Therapist Association.
Jeanne has a caring and gentle approach with her patients and always strives to see them leave their appointment with a smile.
She loves spending time with family and friends and when time allows she loves to travel with her two sons.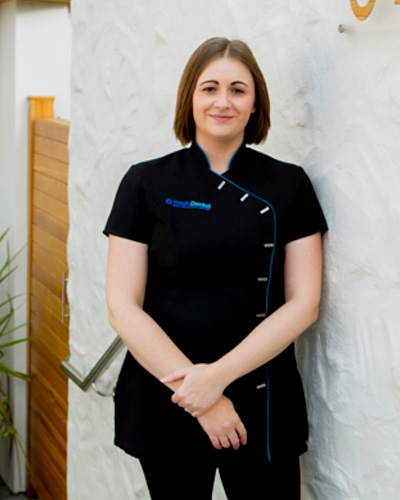 Gemma Fallaize | GDC NO. 162406
---
Practice Manager and Registered Dental Nurse (162405)
Gemma has been at the practice for 15 years and has gained vast knowledge in all aspects of the dental practice environment, including nursing, admin and reception. As Practice Manager since 2014, she oversees the day to day running of all aspects of the practice, ensuring the happiness of both staff and patients.
Over the last 3 years Gemma has been involved with our Practice Management Compliance programme, which helps us to gain best practice with policies and procedures, ensuring the smooth running of the Practice, improving the sterilization protocols to meet "Gold Standards" throughout. She enjoys all aspects of her job and, although the day to day running of the practice and compliance are time consuming, she still tries to be active in the vital role of nursing.
In her spare time Gemma loves spending time with her family and friends.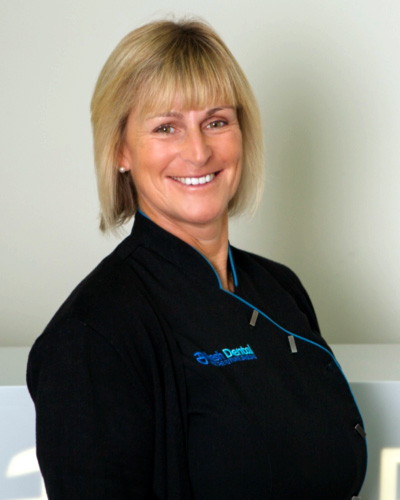 Michele Driscoll
---
Admin/Accounts Manager and PA to Dr. Nav Khaira
Michele is Fresh Dental's longest serving team member, with 33 years of experience within the practice. During this time, Michele has gained experience in nursing, reception, accounts and is our Administration Manager and Personal Assistant to Dr Nav Khaira. She is an invaluable member of the team – here's to many more years!
During her spare time Michele enjoys walking and spending time with family and friends.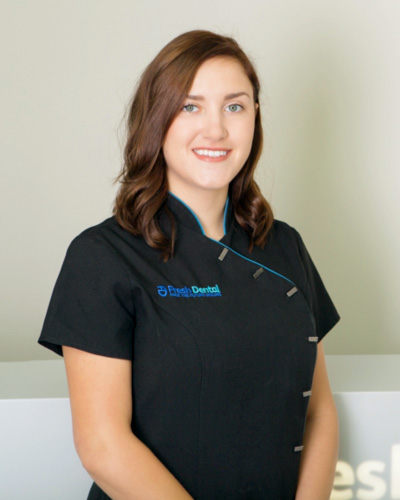 Lydia Le Sauvage | GDC NO. 277604

---
Senior Registered Dental Nurse
Lydia joined Fresh Dental in August 2015 and in 2017 qualified with a City and Guilds Diploma Qualification in Dental Nursing. She is now a Senior Dental Nurse with particular interests in Implant Dentistry, Oral Surgery, Cosmetic and Restorative Dentistry and other aspects of Advanced Dentistry all carried out at Fresh Dental, and looks forward to sitting other Certification Exams over the years. Lydia is the Lead of Cross Infection Control at Fresh Dental and the Lead of all teaching of new dental nurse trainees at the Practice.

In her spare time, she loves to travel, cook and spend time with family and friends.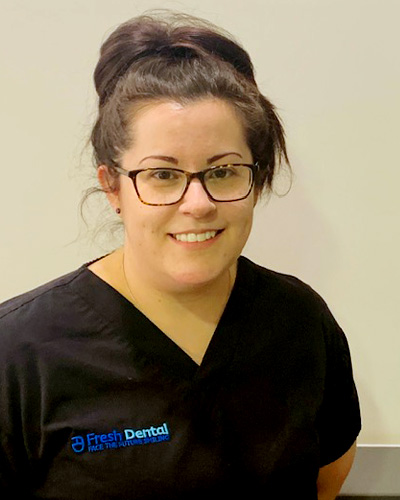 Katie Collins

| GDC NO.

184283



---
Registered Dental Nurse
Katie joined Fresh Dental in July 2019, bringing with her a wealth of experience, having worked as a dental nurse from 2003. She qualified in 2009 after gaining the NEBDN Certificate in Dental Nursing. Katie also went on to study for the NEBDN Certificate in Dental Radiography, qualifying in 2012. Katie enjoys all aspects of dental nursing, and thoroughly enjoys working within a caring profession.
In her spare time, Katie enjoys crocheting, travelling when time allows and spending time with family, friends and her cats, Yoshi and Cranston!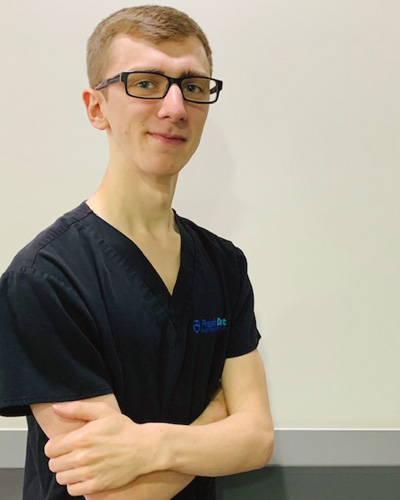 Ryan Winterburn
---
Dental Nurse Trainee
Ryan joined the team in June 2019, as a trainee Dental Nurse. Ryan enjoys every aspect of working as a Dental Nurse from basic restorative treatment to Oral Surgery at the PEH. Ryan looks forward to starting his diploma in dental nursing, to become a registered dental nurse and continuing his professional development.
In his spare time, he enjoys rock climbing and socialising with his friends.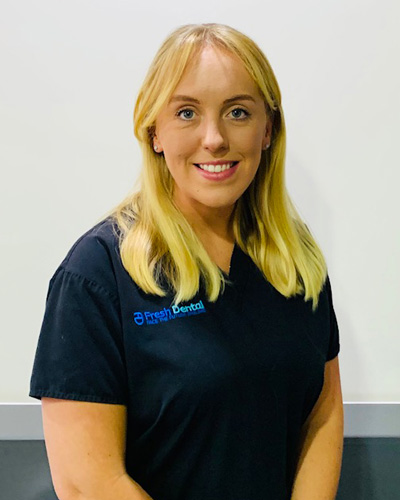 Charlotte Mitchell
---
Registered Dental Nurse

Charlotte moved to the Island in January 2020. She joined the team as a trainee Dental Nurse and particularly enjoys cosmetic dentistry. Charlotte looks forward to continuing more knowledge within the dental setting and qualified as a Dental Nurse  in 2022.
Outside of work she loves to socialise with friends and enjoys exploring the Island on long walks with her beagle, Monty.